ZIEHM VISION RFD 3D C-ARM
In Stock Now!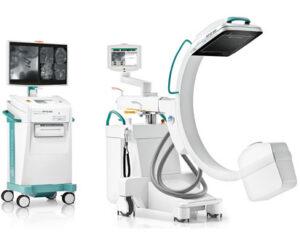 The Ziehm Vision RFD 3D C-Arm is for Healthcare providers who are challenged to cut costs, meet the needs of an aging demographic, improve the accuracy of clinical outcomes and reduce X-ray exposure during surgical procedures. This groundbreaking mobile 3D C-Arm helps to improve surgical outcomes and patient satisfaction while optimizing costs. Building on more than a decade of experience in 3D imaging, the Ziehm Vision RFD 3D features cutting-edge CMOS technology, bundling 2D and 3D functionality for greater intraoperative control, reducing the need for postoperative CT scans, and costly corrective surgeries.
The proven Ziehm NaviPort interface connects the mobile 3D C-arms of Ziehm Imaging to the navigation and robotic-guidance systems of leading providers.
Ziehm Vision RFD 3D C-Arm is ideal for high-end orthopedic, trauma and spinal interventions as well as for highly specialized maxillofacial and cochlear procedures.
Ziehm Vision RFD 3D C-Arm Features:
Latest flat-panel technology for CT-like image quality
More distinguishable anatomy in 3D reconstructions with ZIR (Ziehm Iterative Reconstruction)
Different volume sizes for the ideal resolution with 320³ voxel or 512³ voxel (CMOS)
Patented SmartScan technology for complete 3D information
2D excellence with advanced 3D technology, delivering high-end multidisciplinary capabilities
Advanced Active Cooling for optimal generator temperature
Pulsed monoblock generator with 30 kW7 power performance
Full control of the 4 motorized axes via the Position Control Center (joystick module) and touchscreen
Open interface Ziehm NaviPort for image-guided 3D navigation and robotic guidance of leading system providers
Ziehm Usability Concept combining a unique and finely tuned set of hardware features with seamlessly integrated software functionalities
Comprehensive dose concept for high image quality and minimized dose
Automatic optimization of dose and image quality with advanced anatomical programs
Dedicated functions to significantly reduce exposure in pediatric surgery
Beam Filtration for reduced skin entrance dose without compromising on image quality for all CMOSline systems
Interested in the Ziehm Vision RFD 3D C-Arm? Contact us today.