C-Arm Refurbishment Process
Below is a detailed step-by-step description of the C-Arm refurbishing process that we perform either remotely on-site or in our refurbishing facility:
Workstation:
Check all available functions of the C-Arm and options based on the installed feature package. Verify the function and condition of all controls, buttons and switches of the mobile C-Arm.
Check all C-Arm's keypads for condition and functionality.
Remove monitors of the Pre-owned Used C-Arm and replace with refurbished monitors.
Clean all filters, fans and covers.
Check power cables, interconnect cables and plugs of the C-Arm. Verify condition and functionality.
Check and verify the condition and functionality of any cameras or printers of the C-Arm if applicable.
Remove all patient data and error logs from the C-Arm system.
Clean and paint the Workstation.
C-Arm:
Check and verify the condition and functionality of the c arm system. (Boot and Shoot).
Check and verify image quality. Repair or replace deficient components of the C-Arm.
Verify x-ray calibration, tracking and dose – perform generator calibration.
Check and verify the function of the collimator. Replace with refurbished collimator.
Replace main battery packs and SRAM battery of the C-Arm.
Check, clean and verify the condition and functionality of all mechanical movements, brakes, steering, etc.
Clean and sterilize system, perform all maintenance procedures, and paint.
Clean wheels, clamshells, cables, and all outer surfaces.
System:
Verify full C-Arm system functionality.
Verify system esthetics and paint, including stickers.
Verify all image quality checks.
Verify all x-ray calibrations.
Verify system configuration.
Package for shipment as directed.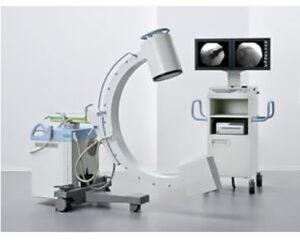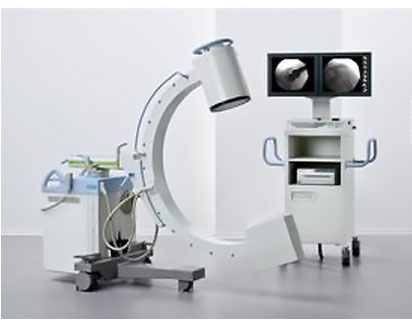 In the highly specialized world of Refurbished C-Arms, the value of a well educated and informed staff is one of the most important assets in choosing the correct equipment for your facility. The fact is, there are more than just a few models to choose from; this can make things difficult when making the choice regarding which model of Refurbished C-Arm will best fit your professional needs. Keeping a few things in mind when considering the model which catches your attention will help you make the best choice possible.
Footprint – Space is a huge consideration when it comes to purchasing a refurbished C-Arm. Starting with a general idea as to the level of space available and the footprint requirements of the C-Arm itself is an excellent first step when considering your options.
Basic Function – the list of functions that your Refurb C-Arm absolutely needs is certainly not to be ignored. Any model in question can be within the size requirements, and can look pretty enough, but without the necessary functions to get the job done, you may as well purchase a sculpture for your facility.
Feature sets – The correct set of features is ultimately what will allow the workflow of technicians to be as smooth as possible. Providing your physicians with the features which allow them to conduct procedures quickly, efficiently and with the focus your patients deserve is a something which should be explored in depth before the final decision is made.
Technology – Perhaps one of the more difficult things to keep on top of is the technology level. Because improvements are constantly being made in imaging and dose control, it is important to make sure that the equipment you choose is up to date and on par with today's level of technology. This is one of the determining factors in how long you can expect to use the equipment, and thus the level of return investment it provides.
Investment Calculation – Calculating the return investment of any Refurbished C-arm is one of the more important aspects of choosing the right equipment for your facility. Because this equipment must eventually pay for itself and provide some source of revenue, this portion of the process deserves its due process. Your budget is important, be sure to keep your options open especially in this field.
Because our staff is highly knowledgeable in the specifics of all these areas, it becomes very easy to get the long and short of how any model can be a potential for your facility. We understand that the process is not a simple choice to make, and we are here to help.
We invite you to contact us with any questions you may have, we'll make sure that you get the attention this weighty decision warrants.