GE OEC 9800 C-ARM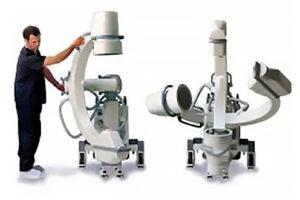 There is a reason that a refurbished GE OEC 9800 C-Arm is one of the most reliable C-arms on the market today. It is the system of choice in many surgical workshops and is installed in more hospitals and doctors' offices worldwide than any other mobile c-arm. As a direct successor from the OEC 9600, it takes all the strengths and none of the weaknesses of its parent model, and builds on the fundamental science that makes the OEC line the most reliable in the field.  A refurb OEC 9800 offer access to of the most reliable pieces of equipment in the field and provides your patients with care they need to make a complete recovery.
Refurbished GE OEC 9800 C-Arms
The GE OEC 9800 has added dual touch screen monitors. Something not entirely new to fluoroscopic systems but was a first for mobile c-arms. With an easy to use tableside joystick, now this device becomes a fully motorized imaging system allowing you to move your c-arm with more precision and control. As a bonus a collision protection feature was installed to warn you before any contact of any kind occur while moving the motorized c-arm. This will keep your patients safe, while allowing maximum efficiency for the operator.
When it comes to mobile c-arms mobility is everything. The steering for the OEC 9800 carries a considerable upgrade from previous models. This allows greater mobility and allows the operator to get a better picture with less manipulation. Better pixel resolution allows greater accuracy of the 9800 series; the upgraded imaging leads to improvement and efficiency on surgical outcomes. This product does everything you want from a c-arm and it does it very well. No wonder the OEC 9800 is consistently the most popular of the OEC systems and is being called the industry standard in mobile imagining.
Buy OEC 9800 at Competitive Prices
We take great pride in our professional level knowledge in the C-arm field. We understand that choosing the right c-arm is very important and price is always going to be one of the main components in swaying your decision. Refurbished c-arms provide a cost effective way to get access to the quality technology that your facility needs. Selling or trading in your existing c-arm may also help effect the cost when looking for a new unit. Whatever you decide with the needs of your facility in mind, we will be glad to help find the c-arm that fits your specific requirements.
Interested in the GE OEC 9800 C-Arm? Contact us today.
Additional GE OEC C-Arms: