GE OEC 9400 C-ARM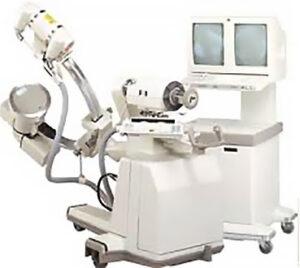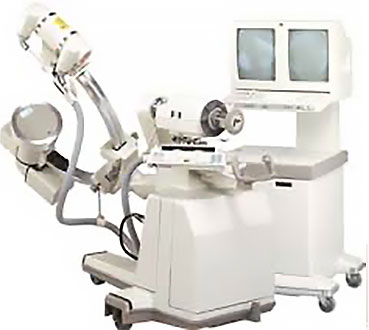 Refurbished GE OEC 9400 C-Arms are still highly prized in the medical community for their simplicity and ease of use. Two 17 inch high resolution monitors make it easier for operators to more clearly observe and more accurately react. In terms of core functionality, a Refurb OEC 9400 makes for an excellent solution to your fluoroscopy requirements. Still a perfectly viable solution for any facility, the 9400 boasts a rotating anode X-ray tube for greater penetration, Digital Image Enhancements and a Motion Artifact Reduction system.
For any facility that requires a C-Arm with Excellent functionality without overextending the budget, the GE OEC 9400 stands as an extremely viable option. Taking into consideration the fact that this model was created to succeed a longstanding classic, you can expect nothing less than several years of operation, and rock solid performance.
The reason that the GE OEC 9400 C-Arm remains common in the industry is its direct approach to quality of function and long life expectancy. The enhancements included into its design ensure that it surpasses its legacy model and make it a more powerful, more versatile and easier to use machine than its previous models.
Though it's true that newer models have significantly richer feature sets than the OEC 9400, it remains a classic which stays true to the reputation of quality that all models in the OEC line are famous for. Taking advantage of this reputation for quality by investing in a Refurbished OEC 9400 will allow your staff access to quality equipment that will generate significant returns rapidly.
Additional packages for GSP and ESP are available for the OEC 9400; this makes it quite adaptable for whatever is necessary in your practice.
Bringing this hardworking model to your physicians will allow them greater flexibility, and increased efficiency during procedures. The ability to trust that your equipment will function flawlessly is often more important than the newest features. Providing your physicians with the tools they need to get the job done always takes precedence over the shine of the newest technology.
We understand that choosing the right C-arm for your specific requirements can sometimes be a difficult process. Space limitations, experience levels and budget restrictions all play a part in making the best choice for your facility. Our experts are veterans of the industry and highly knowledgeable about the specific functions of each model we provide. We invite you to contact us with any questions you may have about which model fits your requirements best, or will provide a maximum return on your investment.
Interested in the GE OEC 9400 C-Arm? Contact us today.
Additional GE OEC C-Arms: