GE OEC 6600 MINI C-ARM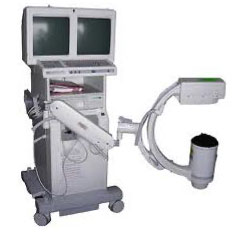 Ideal for orthopedics, the GE OEC 6600 Mini C-Arm is a cost-effective mini C-Arm system. It comes with edge enhancement features to ensure high quality images and proper diagnosis. It is an easily transportable C-Arm that comes with dual 16 inch high resolution monitors, and its 27 x 27 footprint makes it an ideal product for space constrained areas.
GE OEC 6600 Mini C-Arm Features:
4/6 image intensifier
One shot
Frame averaging
Patient annotation
16 image storage
Auto fluoro mode
Osteo/Ped lamp for imaging lower density bones
Reverse camera keys
Dual high-resolution monitors
Footswitch
Interested in the GE OEC 6600 Mini C-Arm? Contact us today.
Additional GE OEC C-Arms: