GE OEC 9800 PLUS SUPER C C-ARM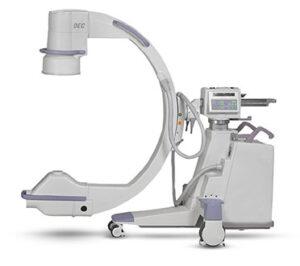 The GE OEC 9800 Plus Super C C-Arm is by far one of the most popular models ever manufactured. Building on the already fantastic OEC 9800, the Super C is trusted by huge numbers of physicians across the globe to get the job done reliably and efficiently. Acquiring a refurbished OEC 9800 Plus Super C will make your facility more efficient, and allow physicians to operate with confidence. High quality equipment also has the effect of increasing patient confidence, which eases the process on all levels.
Excellence in performance and the reliability that comes from its recent development makes a Refurbished OEC 9800 Super C a clear choice for the facility that requires more than the basics for the care of their patients.
Upgraded cooling rates and a superior display resolution makes this equipment accurate, easy to use and reliable for operators with access to this marvel. An optional DICOM interface allows for greater ease and flexibility in generating reports for recordkeeping. An elegantly simple and familiar user interface will ensure that your staff can quickly adapt to the use of the OEC 9800 plus.
Perhaps one of the most valuable assets that the 9800 Plus provides is the enhancements applied to dose controls. These upgrades make it possible to decrease dose percentages by up to 50% without the need to sacrifice image quality. This is achievable with the suite of image enhancement technologies that are built into the equipment.
Touch screen technology allows for greater ease of use and faster procedures with the OEC 9800 Plus C-Arm. It is no surprise that this model is considered the workhorse of the industry. Refurbished GE OEC 9800 Plus Super C-Arms from Sharp Medical suffer no decrease in functionality. General Electric has provided the world with one of the most excellent tools for the Emergency Room, Operating Room and Pain Management Clinics; providing your physicians with access to this technology will increase their productivity and performance, by giving them the technology they need to provide excellent care.
The OEC 9800 Plus C-Arm is a sleek, feature rich tool which is famous for its versatility and longevity. For the Facility that requires a trusty, modern, hardworking C-Arm system, we often suggest the OEC 9800 Plus. We invite you to speak to our experts about its capabilities and specifications. Our staff will be delighted to help you go through comparisons, possible upgrade packages, and explore potentials for investment returns on any model you wish.
Interested in the GE OEC 9800 Plus Super C C-Arm? Contact us today.
Additional GE OEC C-Arms: