SIEMENS CIOS SELECT C-ARM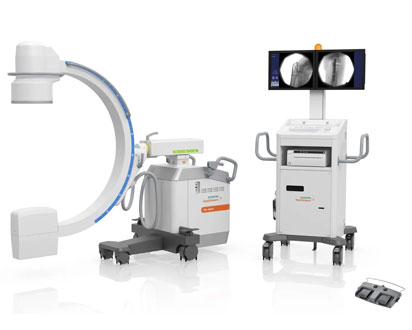 The Siemens Cios Select C-Arm is equipped with proven, high-quality image intensifier technology, enhanced by IDEAL dose management, a wireless footswitch, and advanced cyber security. The result is a system that delivers excellent images, easy handling, and high system uptime. Cios Select supports your procedures with smart, automated algorithms like IDEAL dose management, metal correction, and noise reduction, and helps you simplify everyday interventions and reduce training time.
Streamline Your Workflow with the Siemens Cios Select C-Arm
Compact, lightweight design
Color-coded axes and brakes
Integrated laser light localizer
Fully counter-balanced C-Arm
Wireless footswitch – allows for more flexibility in positioning throughout the room and better infection control, as well as easier cleaning (uses standard batteries).
Intuitive control panel – each button is labeled with a clear pictogram, and buttons with similar functions are clustered
Intelligent Dose Efficiency Algorithm (IDEAL)
Equipped with the unique IDEAL dose reduction software, the Cios Select automatically optimizes dose, contrast, and brightness by referencing x-ray parameters with an analysis of image pixels and histogram, resulting in balanced, crisp imagery.
Metal Correction
Metal implants can dramatically impact and impair anatomical visualizations. Cios Select's Metal Correction technology optimizes contractor and brightness levels to deliver clearer most distinct imagery.
Advanced Noise Reduction
The Cios Select automatically optimizes imaging to minimize noise for clearer, more visible anatomy.
Edge Enhancement
Automatic edge enhancement delivers crisper, finer details.
Advanced Cyber Security
User Access Management
Prevent unauthorized access by creating user groups and defining custom access levels
App Whitelisting
Protect your system from malware with restrictions on unauthorized downloads
Data Encryption
Encrypted patient data partition for security against the, thanks to Windows 10 Bitlocker
Audit Trail
Track important configuration changes for improved transparency
Interested in the Siemens Cios Select C-Arm? Contact us today.
Additional Siemens C-Arms: