SIEMENS ARCADIS ORBIC C-ARM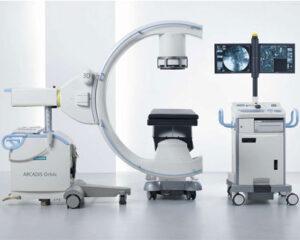 For a great many professionals in the interventional pain management field, a model that represents true innovation is the Siemens Arcadis Orbic. Refurbished models allow access to the feature rich design and maximize the investment that this equipment represents. Perhaps the central reason behind the success and proliferation of this model around the world is its Isocentric design which places it ahead of the curve in terms of usability and efficiency.
Refurbished Siemens Arcadis Orbic C-Arm is often a clear choice for anyone who requires equipment in the fields of Trauma, Pain Management and Spine Surgery. Isocentric design makes controlling the parameter of Source to Isocenter Distance is often very important in achieving the best quality image while keeping patient exposure to the absolute minimum. In fact, this is precisely what the Siemens Arcadis Orbic C-Arm was designed to do.
By approaching the design from the perspective of time and dose saving features, Siemens has created a C-Arm solution many facilities rely on to make the most of the equipment and the investment it represents.
190 degree orbital rotation virtually eliminates the need for readjustments and provides nearly unlimited projection possibilities. Combining this with intelligent color coding makes the initial adjustment faster and more precise. A multifunction footswitch allows technicians to control operating modes and enable image storage outside of the sterile field.
In addition to the two 19" high contrast, high brightness monitors, a "monitor out" interface enables the connection of additional screens for greater flexibility. Extensive options in post processing archiving and documentation are yet another boon that the Siemens Arcadis Orbic provides; these include DICOM, CD, DVD, USB capabilities.
One of the design goals of this equipment was to improve the clinical workflow. This was achieved through several features such as vertically and horizontally adjustable monitors which allow adaptation to specific needs. A lightweight design with centralized foot brake enables physicians to quickly move the equipment, lack it back into place and carry on with the procedure whenever necessary.
The dense feature listing and excellent adaptability, combined with the Isocentric design philosophy makes a refurbished Siemens Arcadis Orbic C-Arm a fantastic choice for any facility. We invite you to contact us if you have any questions regarding this or any other equipment which catches your attention. We understand that every office has a different set of requirements for their equipment, and we want to help you make the choice which represents the best option in terms of technology, space restrictions and return investment.
Manufacturer's Brochure – Siemens Arcadis Orbic C-Arm Brochure
Interested in the Siemens Arcadis Orbic C-Arm? Contact us today.
Additional Siemens C-Arms: