SIEMENS ARCADIS VARIC C-ARM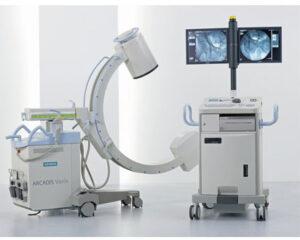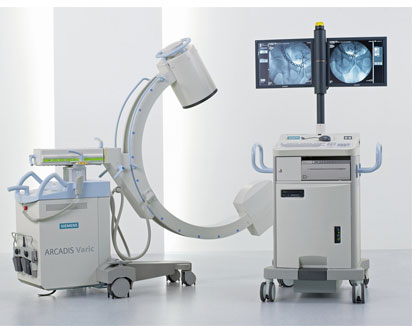 In the field of C-Arm solutions, the ability to trust your equipments performance is easily one of the most important requirements. A refurbished Siemens Arcadis Varic C-Arm performs brilliantly in this regard. Because of its feature rich design and its ability to provide to the point solutions for operators, it confidently stands on its own merits and excellently designed features.
In many ways, the focus of Siemens Arcadis Varic rests on making the equipment easy to use, and creating a streamlined workflow for its operators. A Refurbed Siemens Varic C-Arm provides all the features that made the new model desirable to technicians at a price that fits the budget.
A lightweight system makes operation easier, while a separate viewing trolley allows for greater positioning options for the physician while operating is underway. Easily understood color coding on the arm itself makes adjustment of the arm itself quick and simple. Because of its smaller footprint, you can find better uses for the space made available in the operating room. Superior mobility in the equipment makes the workflow easier, and can increase productivity of your staff.
A unique software platform allowed for Siemens to create a more effortless approach to the operation of the system, while advanced footswitch operability allows control of operating modes and enables the control from outside the sterile field.
Dose reduction features abound in the Siemens Varic C-Arm, these include a laser light locator, multi level dose control as well as radiator free collimation to name only a few.
19 inch, foldable, High brightness, high contrast monitors make viewing easy on the eyes even from a distance. The suite of post processing options are nearly limitless, this includes CD, DVD, Dicom and USB. All of these things combined make a refurbished Siemens Arcadis Varic an attractive and intelligent investment which you can rely on for years into the future.
In order to help our customers make the right choice for their facility, we have make a habit of being highly knowledgeable in all the models that we provide. The ability to compare features and discuss possibilities in real time with an expert is just part of the process necessary to making the correct choice for your facility. We understand that any investment in C-Arm equipment is not made lightly. Expectations for returns must be calculated while keeping function, space requirements and dose levels in balance.
We invite you to contact us with any questions you may have, our staff will make sure that you have the knowledge you need to make the best decision that fits your requirements.
Manufacturer's Brochure – Siemens Arcadis Varic C-Arm Brochure
Kevin Noone Demonstrates The Significant Features of the the Arcadis Varic C-Arm
Interested in the Siemens Arcadis Varic C-Arm? Contact us today.
Additional Siemens C-Arms: