SIEMENS CIOS ALPHA C-ARM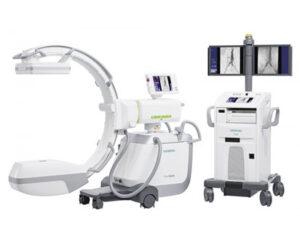 Whether being used to check the anatomical details such as blood vessels, bones and kidney stones or the position of the implants or instruments, Siemens Cios Alpha C-Arm has helped address critical procedures with superior efficiency and accuracy. The device, with its Full View Technology, provides high-resolution, distortion-free images in real time and allows the physician to have greater image coverage even when rotated. With its ergonomic design and intelligent features, Cios Alpha fits into your intraoperative imaging needs seamlessly.
The crème de la crème of mobile C-arms, Cios Alpha delivers exceptional prowess when it comes to image quality. With its 30 cm x 30 cm (12" x 12"), 1.5K x 1.5K flat detector, the device provides a larger field of view with excellent spatial resolution and dynamic range. This helps the doctor differentiate between tissues and the surrounding areas.
The Siemens Cios Alpha C-Arm comes with two state-of-the-art medical monitors. These informative displays come with high-resolution, high-contrast TFT panels which offer better color reproduction, better readability and exceptional color stability even at extreme viewing angles. The Enhanced Acquisition System (EASY) reads the full image matrix on the monitors and adjusts the brightness, contrast and dosage accordingly. The monitors are adjustable both horizontally and vertically and can also be rotated in 180° fashion to suit the requirements. The device also has a monitor out function so that it can be wall-mounted for better visibility.
Apart from reproducing true-to-life colors on its monitors, Cios Alpha has special features in its arsenal to reduce the dosage content. Its FD technology along with advanced series-processing algorithms and specifically optimized organ programs help contain the dose and increase the image quality. Also, its unique single-touch positioning function eliminates the need for multiple trial and error exposures when returning the detector to a previous projection.
With its 25 kW high power generator, Cios Alpha boasts of a huge power reserve which helps it to deliver razor-sharp, crisp images in all situations. Its sophisticated cooling system comes with an advanced tube design with rotating anode. This intelligent cooling system keeps overheating at bay by efficiently manging the dissipation of heat. The device also has an Energy Storage Unit (ESU) which channelizes the energy according to the requirements. So, in case of higher penetration, the energy storage unit opens its gates for greater flow of power.
Superior ergonomics and flexibility is what defines Cios Alpha in a nutshell. The device allows you to control it right from the monitor cart. The interface on the cart offers a plethora of functions, from positioning the collimator to controlling the brakes. It helps working with the device a breeze and lets you to concentrate on the patient.
Whatever your surgical discipline, Cios Alpha covers the imaging needs of clinical needs including vascular and cardiac surgery, gastroenterology, urology, trauma and spine surgery. Investing in Cios Alpha can give you a high "bang for your buck." With its effortless operability, one-of-a-kind features and pioneering technical prowess, it is a breath of fresh air and can make a surgeon's work more efficient and easy.
Manufacturer's Brochure – Siemens Cios Alpha Brochure
Interested in the Siemens Cios Alpha? Contact us today.
Additional Siemens C-Arms: