SIEMENS CIOS FLOW C-ARM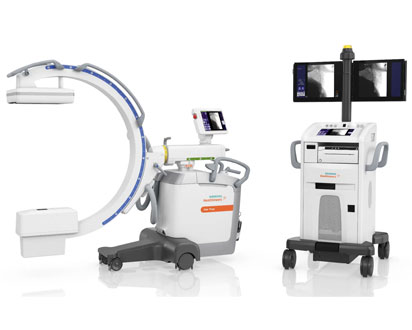 The Siemens Cios Flow mobile C-Arm can help you to make your procedure more straightforward and efficient. It assists you in your daily routine while also supporting multidisciplinary utilization. It is designed for more ease in the OR with versatility that supports system utilization and cyber security to safeguard data and access.
The Cios Flow offers intuitive use, low weight, and easy maneuverability, helping to ensure optimum system operation independent of staff expertise.
Retina Imaging Chain with CMOS technology: Intelligent algorithms automatically adjust brightness and contrast, detect motion, enhance edges, and optimize metal visualization for improved depiction of surrounding tissue.
SpotAdapt and touch gestures: SpotAdapt automatically optimizes imaging parameters to the anatomy of interest. Tablet-like touch gestures let you collimate, rotate, and flip images – and take advantage of SpotAdapt – with just one finger.
High-brightness green lasers: For improved visibility on all skin types and blood – despite bright OR lighting.
Lightweight system design: Featuring a non-compromising C-design, and weighing only 606 lb (275 kg), Cios Flow is particularly easy to position and move.
Wireless footswitch: For less hassle around the equipment and more freedom in the OR.
The Cios Flow's advanced cyber security helps decrease your facility's risk of being hacked, ensuring that personal data is secure.
Access & user management: Define rights for different user groups – to prevent unauthorized access.
Whitelisting: Restrict unauthorized applications – to protect your imaging system.
Data encryption: Encrypt the patient data partition using BitLocker – to secure data against theft.
Audit Trail: Track important configuration changes – for improved transparency.
Interested in the Siemens Cios Flow C-Arm? Contact us today.
Additional Siemens C-Arms: