PHILIPS VERADIUS UNITY C-ARM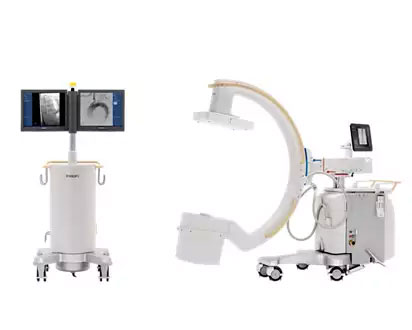 The Philips Veradius Unity C-Arm is especially designed to make surgical imaging easier for physicians and operators in the OR. Its unique user interface (UI) is extremely user-friendly and as easy to use as a tablet. The ClearGuide and color-coding help to improve communication during positioning, and it offers superb image quality that is achieved at excellent dose efficiency.
The Veradius Unity's enhanced C-Arm design provides ample room to easily access and image patients of all sizes. There is plenty of space for the surgeon to work around patients, and it's easily to position the C-Arm, even for difficult projections.
The Philips Veradius Unity C-Arm Features:
Easy user interface that transforms your surgical procedures with tablet-like simplicity. Touch the screen on the mobile C-Arm to position the shutters and iris on Last Image Hold. High level functions are clearly displayed. At each step only the features you need are shown, making it easy to find the right selections.
Clear communication is achieved using the ClearGuide and color coding on the C-Arm which provides a uniform reference for the operator and physician.
Position Memory gives you the ability to store a previous position and recall it to speed up re-positioning. The system displays both the current position and the saved position, which guides the operator back to the exact projection required.
Third generation Flat Detector system provides high quality fluoroscopy, exposure, subtraction runs, and roadmap guidance to support orthopedic, cardiac, and vascular surgeons in performing the most challenging procedures. This system delivers consistent, undistorted edge-to-edge image quality and superb contrast resolution to support critical decision making.
Outlining tool allows you to draw on the touch screen of the Mobile Viewing Station using a stylus pen or your finger to easily mark a bifurcation or side branches on live fluoroscopy images.
Interested in the Philips Veradius Unity C-Arm? Contact us today.
Additional Philips C-Arms: