PHILIPS BV PULSERA C-ARM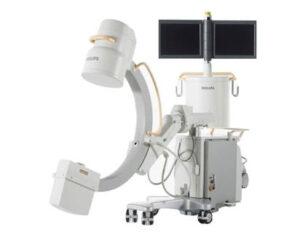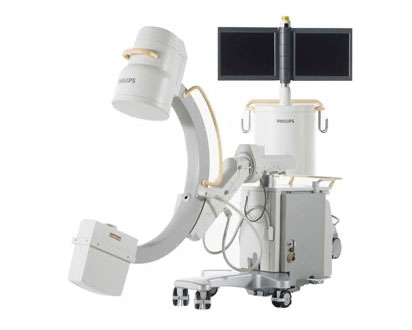 Occasionally, medical equipment is presented with technology that changes the game altogether. The refurbished Philips BV Pulsera C-Arm is an example of what updating a few components can mean to the performance of equipment as a whole. In the process of a refurb, Philips BV Pulsera C-Arms receive a fast cooling rotating anode tubes which dramatically reduces its cooling time. This was an extremely important due to the 7.5 kW generator required to provide the excellent imagining of the Philips BV Pulsera. Refurb models provide you with all of the perks and none of the weaknesses of the original design, making this option extremely attractive all around.
Philips has sweetened the deal with the upgrades to the Refurbished BV Pulsera C-Arm, but some of its best features were built in from the start. Its responsible approach to dose control is based on collecting the best image possible while delivering the lowest dosages. This is extremely important since the upgrades allow the Philips BV Pulsera to operate continuously on the same par as other models in the top shelf of the C-Arm industry.
Dual touch screen Liquid Crystal Display monitors make the Philips BV Pulsera easy to use with a plenty of viewing space. Pulsed acquisition of thirty pulses per second allows for exceptional imaging. This excellent equipment has become a must have for pain clinics around the world.
Bringing this Fantastic C-Arm into your facility can unlock new heights of efficiency in the workplace and allow your physicians to treat more patients, more effectively. When considering a Refurbished Philips BV Pulsera C-Arm for your facility, bear in mind that we at Sharp Medical are dedicated to helping our customers determine the make and model that will offer maximum returns both in performance and investment for their specific situation.
Our experts are highly knowledgeable about the features of all makes and models of today's medical equipment, and are more than willing to help you through the process of determining which model will help achieve the goals you set forth.
We invite you to contact us with any questions you may have about the specifics of any model which catches your interest; choosing the right set of features for your needs is not a process to be taken lightly. Our staff is here to make sure that both your physicians and your patients receive the very best in terms of technology and the care that it provides.
Interested in the Philips BV Pulsera C-Arm? Contact us today.
Additional Philips C-Arms: