PHILIPS BV LIBRA C-ARM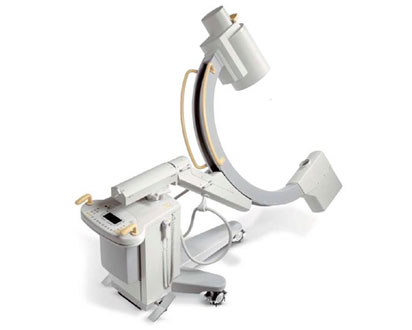 The Philips BV Libra C-Arm's high quality fluoroscopic images take the strain off your eyes, making it easy to see even the finest details when positioning needles or orthopedic implants.
High quality images, time after time
When you're in the middle of an operation, the last thing you need is a blurred image that you have to adjust. The Philips BV Libra C-Arm quickly gives you the best fluoroscopic images. And our real pulsed fluoroscopy mode provides excellent quality images at half the dose of normal fluoroscopy. You get optimized images – the first time, every time. At a drastically lower dose level for you and your patients.
Crisper, clear images
The 9" triple-mode image intensifier can handle all your routine procedures including vascular functionality (subtraction and re-masking). It features Philips optimized imaging chain that includes our Charge Coupled Device (CCD) technology and patented anamorphic lens. Meaning you get superior resolution and an outstanding level of coverage and detail visualization for all your applications.
More imaging power
Philips highly efficient x-ray components give you the power to go the distance in longer studies without overheating. Thanks to our exceptional heat management capabilities. The result is fewer delays and longer performance, exam after exam. Plus, our advanced automatic high penetration mode gives you full contrast for the steepest projections, like lateral hip exams.
Imaging extras
Our real pulsed fluoroscopy mode cuts dose in half. Automatic movement detection eliminates motion blurring for viewing dynamic studies. You get more consistent images with our unique BodySmart software. It finds, tracks, and precisely defines the field of view to anatomy – no matter where it is on the image intensifier. So you quickly get a high quality image, time after time.
Features:
Excellent maneuverability
Compact design
Cost-effective performance
Single-button control
Interested in the Philips BV Libra C-Arm? Contact us today.
Additional Philips C-Arms: