Orthopedic Practice C-Arms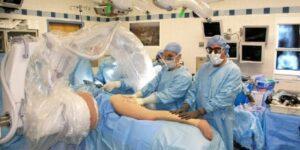 At its inception, C-Arm technology truly revolutionized orthopedic care and orthopedic trauma surgical practices. An orthopedic Physicians options to closely follow repairs and healing were revolutionized. The field continues to expand with specialized orthopedic trauma and sports medicine related practices continuing to improve services based upon the blossoming technology of C-Arms and accessories.
As an orthopedic surgical center, you may focus with a specialty or perhaps you must strive to serve a varied patient audience, sometimes blending specialties in numerous anatomical areas: hips, knees, shoulders, or hands. You will need a highly adjustable machine capable of maneuvering to focus precisely on a multitude of different angles. The objective is the comfort of the patient and the best image possible for the physician. Your practice depends on it.
Count on Sharp to bring you high performance, well-refurbished C-Arms, accessories and the best orthopedic Tables in a timely fashion. As your partner and Refurbished C-Arm provider, we will pay particular attention to your financial objectives and goals regarding your center's equipment investment. And we are there to assist with technical training and to advise or assist you in handling all aspects of c-arm oversight and service.
Let us answer your questions and show you the level of performance you can expect from the following C-Arms favored by busy Orthopedic Surgical Centers.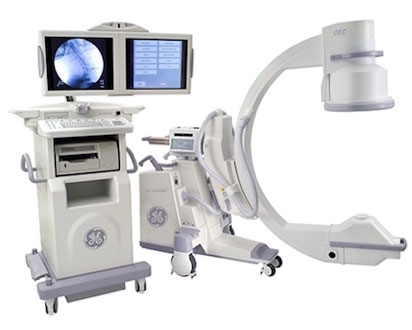 GE OEC 9900 Elite C-Arm
The quality of your orthopeds work is at stake. And time is of the essence. Although the OEC 9900 replaced the General Electric OEC 9800, a lower price may often be reflected due to detailing and the physical materials used to complete this C-Arm's detailing. Performance is maintained at the level of the 9800; but this "trimmed" down model appeals to the budget conscious. Get your office up to date and accessorize this machine with a variety of orthopedic specific accessories for less than you might have thought possible.
GE OEC 9800
An outstanding machine with a 15kW generator and improved capabilities all around, the OEC 9800 offers premium performance and will remain in the running for the duration and offering decades of service and durability in a busy orthopedic practice. Truly the Gold Standard of C-Arms. Build your Ortho offices reputation with help from the top of the line.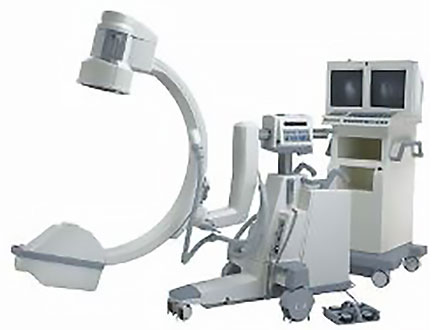 GE OEC 9600
Still considerably affordable compared to more recent models, the OEC 9600 upgrades include what some described as vastly improved functionality and maneuverability so important to an orthopedic office dealing with trauma injuries and joint replacement surgeons. Consider benefiting your doctor's speed and efficiency as well as your patient's comfort in the medical setting. The 9600 is fitted with a 7.5 kW Hi Frequency generator – you choose the accessories you want on board.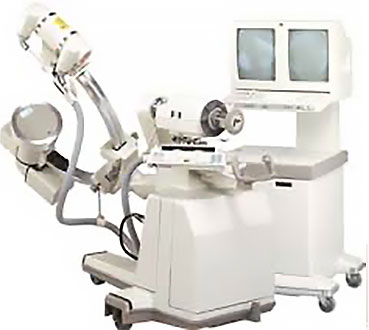 GE OEC 9400
This model is the original upgrade to the GE OEC 9000. Excellent choice for a hip specialty office and so much more. Key improvements of this model give your orthopedic practitioners a larger viewing screen (17″) and a more powerful generator (4.5 kW) along with the reliability OEC is known for in this business.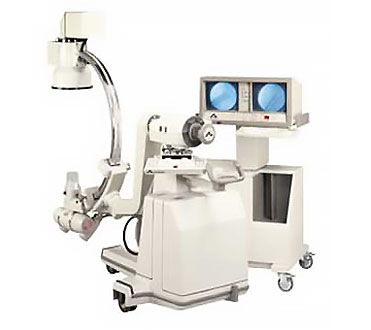 GE OEC 9000
A durable perennial that continues to offer trustworthy images on a 13″ screen powered with a 2.5 kW hi-frequency generator and continuing to rival models a decade newer in basic performance output. This model maintains viable status in the parts department and is a great generator of revenue for a modest investment.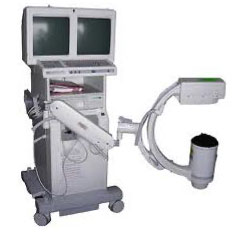 GE OEC 6600
When your clinic has limited space you will still find room to house this basic system. The GE OEC 6600 Mini C-Arm is available at a lower cost than its bigger counterparts, and comes with standard CRT Monitors and a resolution of 512 x 512. With a 27″ x 27″ footprint, it can easily be transported for use even in space-constrained areas.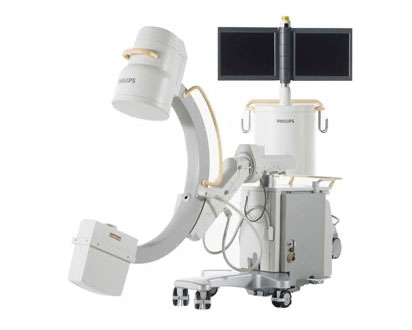 Philips BV Pulsera
Originating as the BV 300 this powerful C-Arm boasts a 7.5 kW generator and offered image clarity and versatility rivaling the OEC's top shelf equipment. Original stationary anode tubes are no longer standard equipment, replacement with fast cooling Philips rotating anode tubes have eliminated the cooling time issue for the Pulsera. This has leveled the playing field significantly and gives this C-Arm a very strong standing in the high end category of C-Arms for any busy Orthopedic practice.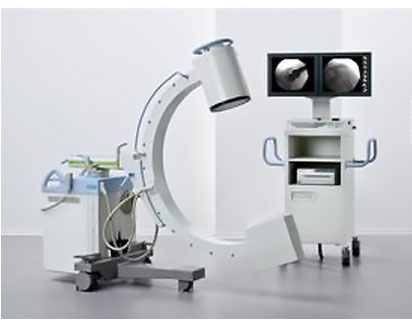 Siemens Compact L
Compare this compact C-Arm somewhat ahead of the GE OEC 7700 in production of remarkable c-arm images and fluid maneuverability. A small portable with big performance. This C-Arm is quality equipment and a solid first investment for your generalist bone clinic. Accessorize for utility in any orthopedic specialty.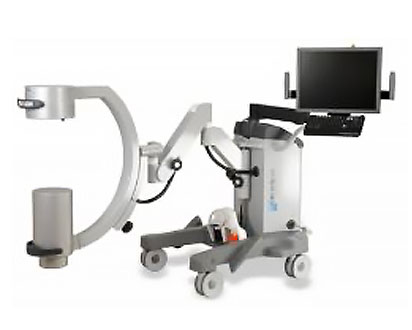 OrthoScan HD
A surprisingly versatile mobile C-Arm developed for great in-office orthopedic action. Smallest and one of the lightest in weight but a heavy hitter in terms of delivering adjustment free images, Total image space of 20.1″ offering a primary image at 10″ diameter and dual secondary images at 5″diameter each. Easy to maneuver and quick to adjust to interferences such as metal, motion and anatomical variations. KV range is 40-78 KVP. High resolution image intensifier and magnified operating mode. Multipurpose interface with big memory including video capability. A dream machine for any ortho office.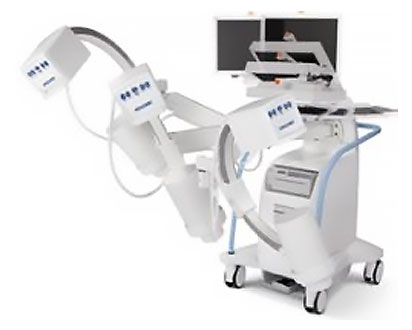 Hologic Fluoroscan InSight Mini
This C-Arm promises to meet the standards for both versatility and precision for surgeons in orthopedic medicine. Hologic offers the smallest x-ray focal point and an advanced degree of automation and maneuverability. Adjustments are fully automated while surgeons working on a variety of extremities are assured outstanding visualization.
The appropriate Orthopedic C-Arm Table can truly enhance your patient's experience and the agility of your technicians in moving through a waiting room full of patients. Find the best Orthopedic Table to pair with your chosen refurbished C-Arm.