Top Refurbished C-Arms for Pain Management
For the top refurbished C-Arm inventory, Sharp Medical is your industry expert when it comes to refurbishing and servicing the C-Arms you need in pain management and other applications. As C-Arm use and innovations have grown to define the interventional pain management field, Sharp has become a trendsetter in great deals. In fact, our focus is securing the best deals for pain management practices. Our finger is always on the pulse of the used C-Arm market. Maintaining professional associations with manufacturers of C-Arms keeps us up to date on new information about our products. We are far ahead of the pack in bringing you the equipment you require in outstanding condition. The following top ranking C-Arms for Pain Management practices are found in successful clinics throughout the country.
In addition to the industry standards we tap an inventory that often includes compact models and products from other innovative manufacturers as well. Just ask. Whatever the size of your office we have something for you. Be confident we can provide the machine you need along with the necessary support to put it in service.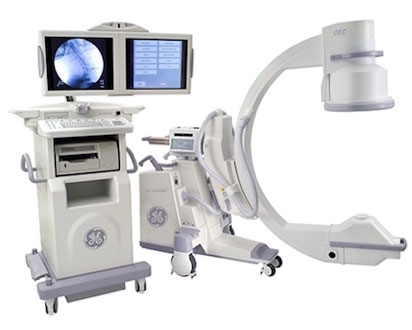 GE OEC 9900 Elite C-Arm
Although the OEC 9900 replaced the General Electric OEC 9800, a lower price is often reflected due to detailing and the physical materials used to complete the picture. Performance is maintained at the level of its immediate predecessor but this "trimmed" down model can be a little more palatable financially. Our refurbished models can be expected to perform at the level of the OEC 9800 guaranteed.
GE OEC 9800
A well applied machine in the busiest spine pain management and sports medicine centers, the 9800 sports a 15kW generator and improved capabilities all around. Speed and clarity save you time. Absolute images guaranteed. The OEC 9800 offers premium performance and will remain in the running for the duration, offering decades of service and durability in a Pain Management setting. Truly the Gold Standard of C-Arms.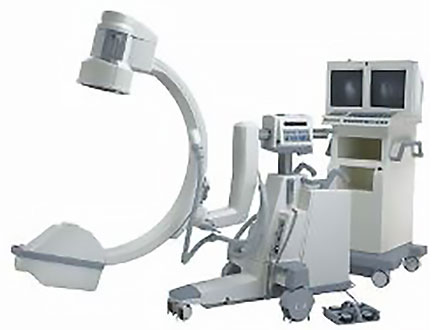 GE OEC 9600
Still considerably affordable compared to more recent models, the GE OEC 9600 upgrades include what some described as vastly improved functionality and maneuverability along with a 7.5 kW Hi Frequency generator on board. Give your physicians the precision they need in needle guidance for diagnostic and therapeutic injections. We offer guidance in making sure the system has the accessories needed most in your office.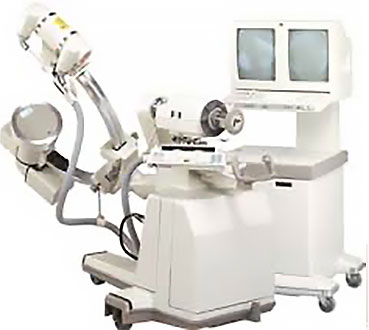 GE OEC 9400
This model is the original upgrade to the GE OEC 9000. Key improvements of this model give pain management practitioners a larger viewing screen (17″) and a more powerful generator (4.5 kW) along with the reliability OEC is known for in this business.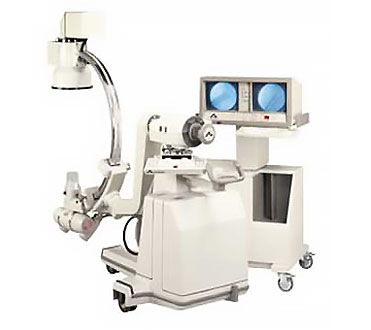 GE OEC 9000
A durable perennial that continues to offer trustworthy images on a 13″ screen powered with a 2.5 kW hi-frequency generator and continuing to rival models a decade newer in basic performance output. This model maintains viable status in the parts department and is a great generator of revenue for a modest investment.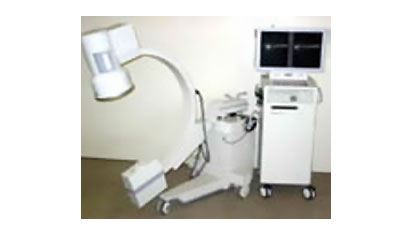 GE OEC 7700
Whether your growing clinic has limited space or you are needing to expand conservatively in response to pain management patient load growth, you will easily find room to house this basic 2.2 kW generator standard system. This truly mobile performer will give you a dependable basic system that can offer the applications OEC is known to support and it won't cost you a fortune.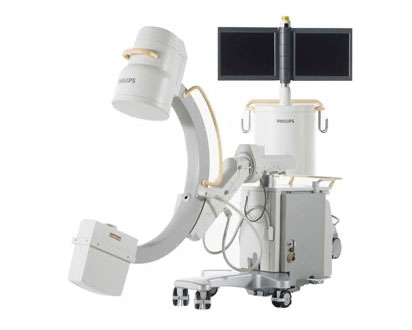 Philips BV Pulsera
Originating as the BV 300 this powerful C-Arm boasts a 7.5 kW generator and offered image clarity and versatility rivaling the OEC's top shelf equipment. Original stationary anode tubes are no longer standard equipment, replacement with fast cooling Philips rotating anode tubes has eliminated the "cooling time issue" for the Pulsera. This has leveled the playing field significantly and gives this C-Arm a very strong standing in the high end category of C-Arms for any busy Pain Clinic.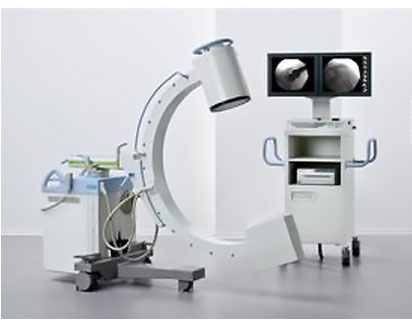 Siemens Compact L
Compare this compact C-Arm somewhat ahead of the GE OEC 7700 in production of remarkable C-Arm images and fluid maneuverability. A small portable with big performance capabilities. This C-Arm is quality has generated a good base income in many start-up pain management offices and can be a solid first investment.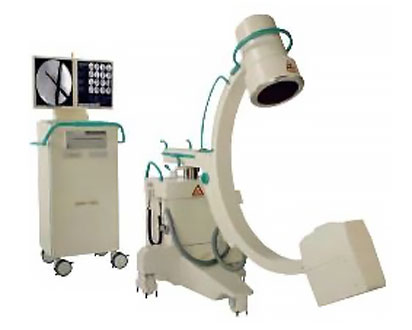 Ziehm Vista
In this business you sometimes need to see from more than one perspective. Your physicians will be directing medication quickly and accurately with The Ziehm Vista. This C-Arm comes in a standard 9? II and includes a monitor cart. Save your patients repositioning and protect their safety with the flexibility of this C-Arm, includes flicker-free dual hi-resolution monitors.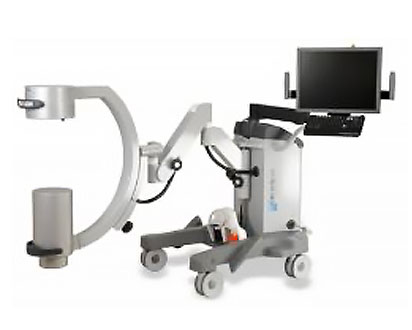 OrthoScan HD
Smallest and one of the lightest around, but a heavy hitter in terms of delivering adjustment free images for your busy physicians. Total image space of 20.1″ offering a primary image at 10″ diameter and dual secondary images at 5″ diameter each. Easy to maneuver and quick to adjust to interferences such as metal, motion and anatomical variations. KV range is 40-78 KVP. High resolution image intensifier and magnified operating mode. Multipurpose interface with big memory including video capability.
If you don't see it here, just ask. We love a challenge and are committed to finding you the best C-Arm, monitors and accessories for your office.
Specific inventory fluctuates and often includes unlisted models which we can describe for you once we know your performance requirements and the level of investment you are ready to make. At Sharp we strive to stay up to date on innovations in the interventional pain management field.
The correct table makes all the difference for patient comfort and safety. Sharp Medical has partnered with Surgical Tables Inc., to bring you the perfect state of the art STI Pain Table (picture necessary components to the right) at the best price possible to pair with your C-Arm purchase.
C-Arm Technology in Pain Management
Pain Management C-Arm Applications
Technological Advances in Pain Management
Technological advances leading to more accurate dispensing of injections of medication for pain management means faster recuperation and increased mobility along with decreased pain for patients. Spine and para-spinal related pain disorders are no longer dependent upon surgery only to aid patient's ability to heal through painful episodes. Third party payers responsible for costs associated with serious spinal pain syndrome have welcomed the options now open to patients.
With the radiation exposure concerns diminished and the amount of medication needed to treat patients decreased, physicians gravitating to the use of C-Arm pain management technology do so with more confidence and greater success than ever in addressing patient's pain issues.
Time reserved per patient for prolotherapy injection treatments go down as the success rates go up given a physician's ability to more accurately and objectively visualize specific needle placements when delivering steroids and other pain relief medications.
Today, prolotherapy injection under C-Arm guided fluoroscopy is considered a state of the art treatment in pain management clinics across the country. Without today's real-time c-arm generated images physicians were previously left to guess and maneuver in virtual darkness, sometimes settling for approximate placements even when patient's anatomical differences deviated from the norm or the expected. Advancement in the field has been effected by ever more manageable systems aided by improved software and image generation.
Physicians trained in C-Arm technology report a greater level of confidence in providing treatment options comfortably for patients who have often been suffering for some time. Injections are considered an early line of pain management defense today as a means to encouraging patients' continued mobility. When a patient can begin to experience improvement in pain management almost immediately, the pressure to pursue surgical intervention or more invasive procedures is relaxed, giving patients an opportunity to begin what can often result in permanent healing.
Training in fluoroscopy imaging, along with related spinal anatomical study of the vertebral column is now indicated for physicians working in the field of pain management. Physician clinical experience is focused on training in C-Arm pain management applications for preferred fluoroscopic imaging including practice with needle tip placement based upon tested procedures. Physicians may be brought to competency quickly with today's responsive c-arm software applications and software advances.
Building Your Pain Management Practice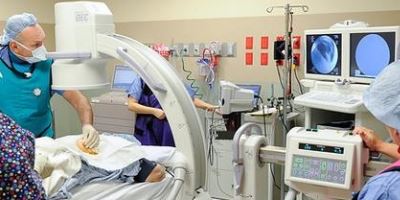 The focus of your Pain Management Clinic, ultimately, is to be responsive and responsible for patient's medical needs and outcomes. The ever-changing business of Patient Pain Management has become closely defined by a growing field of procedures that require physicians ability to view a Patient's skeletal and muscular system and functioning. The effective and speedy delivery of medications to specific areas is dependent upon physician's ability to image the procedure. Speed and efficiency in this process aids clinics in the handling of patients needs and allows more to be served.
Your job is to focus on patient outcomes. How can Sharp help? We believe it is by providing you with the information and research you need to make the best decision for your office in C-Arm acquisition. As a practitioner in the field of Pain Management, you need a Refurbished C-Arm source and service provider who you can count on to bring you high performance C-Arms and Tables that meet your requirements in a timely fashion.
Additionally, in today's medical business climate, your clinic's success requires a partner in equipment procurement who will honor financial objectives and goals regarding C-Arm equipment investment. You will find us trustworthy and truly interested in your success.
Clinics offering intervention therapy for PAIN MANAGEMENT including joint and spinal applications owe much of their success to the growing use of C-Arm fluoroscopic technology. In recent years, physicians working with the benefit of C-Arm technology have experienced significant growth in their field and increased demand for services based upon their success in providing patients improved pain management therapy.
For the C-Arms used and recommended by Sharp Medical most often in today's Pain Management Clinics see C-Arms for Pain Management (above).