ORTHOSCAN UC MINI C-ARM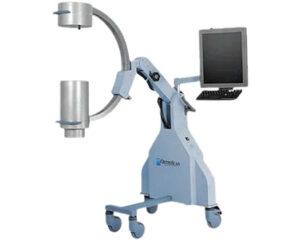 For specialists who require the smallest footprint available, a refurbished OrthoScan UC Mini C-Arm is absolutely one of the best choices all around. This fantastic example of minimal design favoring extreme mobility is evidence of OrthoScan's ability to pack the technology you need into even the most limited of workspaces. With a refurb OrthoScan UC C-Arm your facility receives all the benefits of this excellent hardware at a minimum cost, without compromising quality or performance.
A surprisingly large HD flat panel monitor provides physicians with high quality images that make operating the OrthoScan UC extremely easy. Further ergonomic design features include a custom keyboard which offers single key access to the vast majority of functions. Though it's true that the minimal size of the OrthoScan UC Mini C-Arm makes it impractical for working with anything other than the extremities of the patient, its small size and unsurpassed mobility make it a valuable addition to any facility.
At half the size, and 66% lighter than competitive models in the Mini C-Arm industry, a refurbished OrthoScan UC has the ability to move from room to room with unprecedented ease. Internal image storage allows the operator to move forward without the fear of losing vital information, and single key operation USB controls allow for speedy backups and ease in keeping patient records.
A laser aiming device increases the accuracy of operators, so that exposures can be kept to an absolute minimum. As we all know, dose is important to monitor for the sake of the patient as well as the physician.
The OrthoScan UC also has some impressive options to increase the functionality of the equipment. For example, an Infrared multifunction footswitch can be included which is customizable for fluoro, printing and saving images.
Taking all the options into account when looking at which C-Arm will be the best choice for your facility is paramount to picking the right equipment and maximizing the effectiveness of your staff. It is also important to choose the correct equipment in regards to maximizing the return investment. We invite you to contact us with any questions you may have regarding the specifics of any C-Arm which interests you. Our staff has years of experience in the industry and will be more than happy to discuss the particulars of any model you choose
Don't forget to speak to us about the potential upgrades for the model you select. Though its true that core functionality is always the main concern, extra features can be the differences between a long term solution or an intermediary between models
Interested in the OrthoScan UC Mini C-Arm? Contact us today.
Additional Orthoscan Mini C-Arms: