ORTHOSCAN HD MINI C-ARM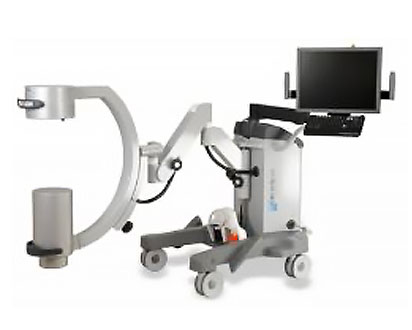 The OrthoScan HD Mini C-Arm puts the most essential functions in a convenient, sterile location, and offers an arc depth of 18.2". This distance provides the surgeon with space to work comfortably. The Boost imaging mode is unique to the OrthoScan mini C-Arms. This feature enables the ability to image larger anatomy such as large shoulders and knees. The monitor is height adjustable, while the infrared footswitch allows for imaging and documentation. The cordless footswitch eliminates another troubling cord that interferes with the movement of the mini C-Arm during a procedure.
The OrthoScan HD has a simple intuitive interface that allows the user to perform basic imaging with little, if any, instruction. The custom keyboard allows single key access to most functions, and the superior display size of the image enables users to analyze fine details at a distance. It automatically adjusts to metal, motion, and varying anatomy. The accurate adjustments of the OrthoScan HD allows the operator to use less fluoro time (less dose) and accurately view anatomy. Adjustment free imaging enables the surgeon to focus on the patient rather than the equipment. The OrthoScan HD creates images and records video at 30 frames per second, which allows it to produce a smooth tracking of motion.
The OrthoScan HD Mini C-Arm Features:
USB MEMORY STICK – The USB memory stick can hold up to 1,000 images per gigabyte. The images are stored in a convenient folder with the patient's name in both a DICOM and JPEG format. JPEG images can be viewed
on any standard computer.
INTERNAL IMAGE STORAGE – OrthoScan HD stores 8,000 images on the unit.
VIDEO OUT – The OrthoScan HD has industry standard DVI/VGA outputs compatible with your projection equipment.
DICOM 3.0 COMPLIANT
DIGITAL VIDEO RECORDER – The OrthoScan HD internal digital video recorder stores motion at an industry-leading 30 frames per second at full resolution. The system can store up to 90 minutes of video at full resolution. Video files can be exported to USB memory stick or CD/DVD.
PRINTERS – The OrthoScan HD can be equipped with two types of printers: Small Format Printer: 3.5" x 3.5" print on thermal paper; Large Format Printer: 5" x 7" print on thermal paper or blue film.
WIRELESS COMMUNICATION – The OrthoScan HD can be equipped with an encrypted wireless 802.11 a/b/g communication system, enabling a secure communication with your HIPAA compliant records system.
EMR Image Link – Enables EMR connectivity. OrthoScan offers the only solution capable of automatically transferring images from the mini c-arm to your EMR system.
Interested in the OrthoScan HD Mini C-Arm? Contact us today.
Additional Orthoscan Mini C-Arms: