ORTHOSCAN FD MINI C-ARM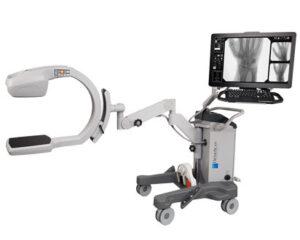 For any office which focuses on the necessities of orthopedics, a refurbished OrthoScan FD Mini C-Arm is quite possibly the best choice available. The ability to work with extremities and retain the functions which allow technicians to operate quickly and effectively is the design philosophy that makes a refurb OrthoScan FD an extremely strong choice for any facility.
The minimal footprint of this model is one of the main reasons for its popularity in professional practices around the globe. By removing the necessity for a separate trolley for monitors, your workspace is significantly increased. A Single 23 inch monitor ensures that physicians get the images they need in the size required to make important decisions for their patients.
Single key operation allows quick, simple and easy backup of images to a USB drive, this is increasingly important in modern facilities and makes record keeping a breeze. This is made possible by utilizing a customer operating system which is designed with operators specifically in mind.
Interestingly enough, the OrthoScan FD is the first Mini C-Arm to incorporate a flat detector rather than the traditional image intensifier. This freed up valuable space to get provide access to some of the more difficult angles which are sometimes necessary when looking at extremities.
Because of its size, the OrthoScan FD is highly mobile and extremely easy to move. This can be easily be considered one of its strongest points because it allows the equipment to be stored out of the way when not directly in use. More space in your work area means greater productivity and allows for greater flexibility in your practice.
All of these things combined make a refurbished OrthoScan FD Mini C-Arm an extremely potent, useful and adaptable workhorse that pulls more than its own weight. Because many unnecessary features are excluded, it is very easy to work with and requires very little time to adapt your staff to its use.
We at Sharp Medical understand that making an investment in a C-Arm for your practice is not a simple cut and dry process. Exploring your options and keeping the requirements of your facility in mind is necessary to making the correct choice. We invite you contact us with any questions you may have about the specific functions of any model which interests you. Our staff is sensitive to the fact that budget restrictions are a real obstacle and will work with you to find the solution which best fits your specific needs.
Interested in the OrthoScan FD Mini C-Arm? Contact us today.
Additional Orthoscan Mini C-Arms: