C-Arms for Vascular Access
The following is a list of top performing C-Arms for vascular and neurovascular C-Arm assisted procedures. These machines can be found in successful clinics throughout the country. Sharp Medical is experienced at bringing you carefully refurbished C-Arm equipment with a warranty that keeps you covered.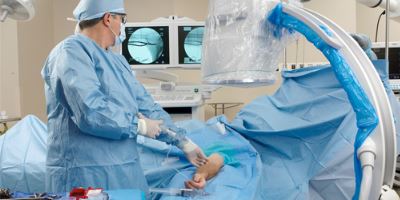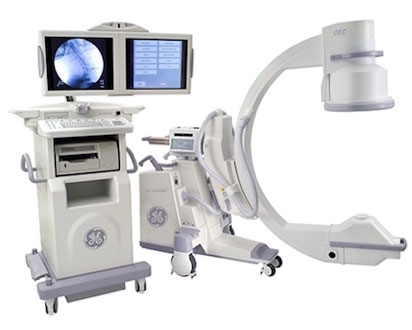 GE OEC 9900 Elite C-Arm
Although the OEC 9900 replaced the General Electric OEC 9800, a lower price may be reflected due to detailing and the physical materials used to complete the picture. Performance is maintained at the level of its immediate predecessor but this more economical model can give your vascular and/or neurovascular clinic great service. Our refurbished models can be expected to perform at the level of the OEC 9800 guaranteed.
GE OEC 9800
An outstanding machine with a 15kW generator and improved capabilities all around, the OEC 9800 offers premium performance and will remain in the running for the duration and likely offer decades of service and durability in a vascular or neurovascular setting. Truly the Gold Standard in C-Arm technology.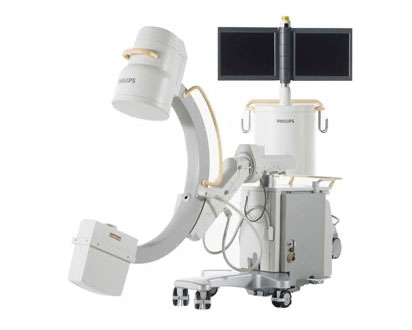 Philips BV Pulsera
Originating as the BV 300 this powerful C-Arm boasts a 7.5 kW generator and offered image clarity and versatility rivaling the OEC's top shelf equipment. Original stationary anode tubes are no longer standard equipment, replacement with fast cooling Philips rotating anode tubes have eliminated the "cooling time issue" for the Pulsera. This has leveled the playing field significantly and gives this C-Arm a very strong standing in the high end category of C-Arms for any busy multiple physician vascular practice.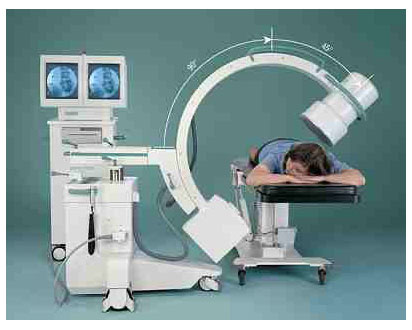 Ziehm Exposcop 7000
This capable, state of the art C-Arm operates through a different construct than other manufacturers' machines. The result is a decrease in c-arm patient dosing and exceptionally superior anatomical visibility which can be crucial for vascular and neurovascular applications. Ziehm's sensitive imaging will bring your office in line with the Leaders in Vascular Medicine reflecting your awareness of patient comfort and safety. Expect excellent results in the case of denser anatomy, post surgical applications and other challenges. The Quantum outperforms even OEC's top contenders in image quality.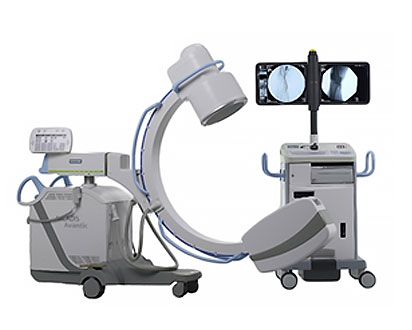 Siemens Arcadis Avantic
This multipurpose C-Arm boasts generator performance of up to 25 kW with a handy 13″ image intensifier and superior image quality and offers user friendly connectivity, interfaces and operation, making it one of the most efficient C-Arms to be found in vascular surgery settings. Gives highly accurate functionality reports on the smallest of vessels offering super diagnostics and patient education data.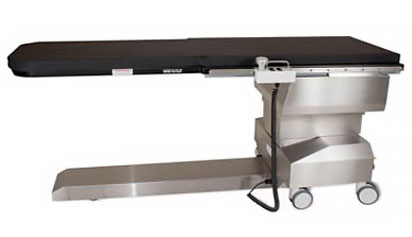 Expand Vascular Practice Options
With further use and research in the expanding field of vascular radiologists and neurovascular C-Arm assisted diagnostics and interventions, related technology continues to expand. This trend has grown to affect the C-Arm equipment and accessories market significantly. Vascular Surgeons, Interventional Radiologists and Interventional Nephrologists will find us knowledgeable and attentive to the equipment details they require in a refurbished surgical C-Arm.
The focus of your vascular medicine office or clinic, ultimately, is to be responsive and responsible for clients' medical assessments and surgical outcomes. The proper C-Arm in your office will make a difference that pays off handsomely. You need a Refurbished C-Arm partner that you can count on to bring you high performance fully reconditioned Vascular C-Arms and related equipment including new tables, software and other accessories as you require them. Additionally, in today's medical business climate, your business requires a source for equipment procurement who assists you in your related business planning and promises to pay attention to YOUR financial objectives and goals regarding YOUR INVESTMENT.