We will do our best to find you a super economical refurbished C-Arm to get your office humming. Let us make sure that your Return on Investment is guaranteed with training and support.
Experience the convenience of having a Sharp refurbished C-Arm in your Bariatric clinic along with the security of knowing you can call us with any questions along the way. We know you'll be pleased with the solid flow of procedures and adjustments made possible.
Sharp will assist you in a thorough assessment of your clinic's needs and determine the return you need on your investment, procuring a C-Arm package to best serve you and your patients. Let us talk to you about the Refurbished C-Arms best suited for Lap Band adjustments, Bariatric Studies such as fills and swallow studies as well as models that can take your center into the future with potential for surgical capabilities.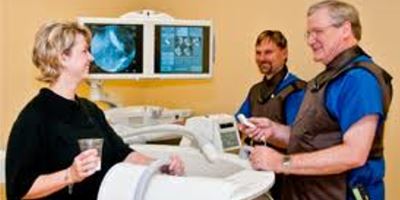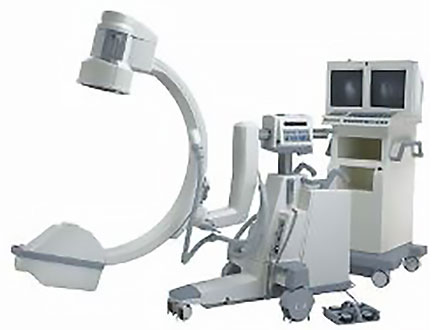 GE OEC 9600
Still considerably affordable compared to more recent models, the OEC 9600 upgrades include what some described as vastly improved functionality and maneuverability along with a 7.5 kW Hi Frequency generator on board. Don't let the fills and lapband adjustments stack up, keep your office running smoothly with this efficient C-Arm.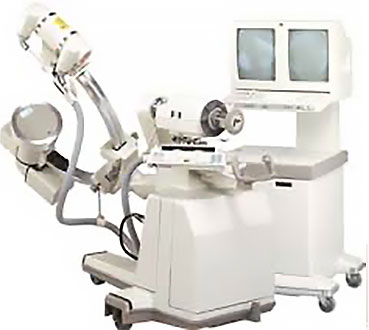 GE OEC 9400
Also a great producer in a busy bariatric office, this model is the original upgrade to the GE OEC 9000. Also a great producer in a busy bariatric office, this model is the original upgrade to the OEC 9000 C-Arm. Key improvements of this model give practitioners a larger viewing screen (17″) and a more powerful generator (4.5 kW) along with the reliability OEC is known for in this business.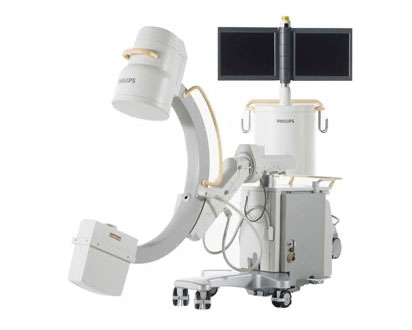 Philips BV Pulsera
Originating as the BV 300 this powerful C-Arm boasts a 7.5 kW generator and offered image clarity and versatility rivaling the OEC's top shelf equipment. Original stationary anode tubes are no longer standard equipment, replacement with fast cooling Philips rotating anode tubes have eliminated the "cooling time issue" for the Pulsera. This has leveled the playing field significantly and gives this C-Arm a very strong standing in the high end category of C-Arms for any busy Veterinarian Clinic.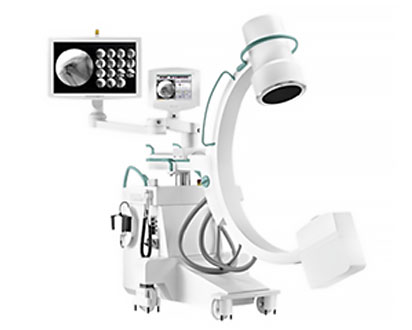 Ziehm Quantum
These capable, state of the art C-Arms operate through a different construct than other manufacturers' machines. The Quantum will bring your office in line with the leaders in bariatric fills under fleuro and will reflect your awareness of patient comfort and concerns. Expect excellent results even with the most challenging denser anatomy found in the majority of bariatric patients. Plan to become a one-stop clinic for all related post surgical applications as well. A solid workhorse for the price, don't forget the Quantum outperforms even OEC's top contenders in image quality.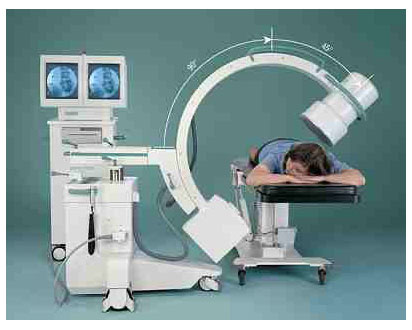 Ziehm Exposcop 7000
This capable, state of the art C-Arm operates through a different construct than other manufacturers' machines. The result is a decrease in c-arm patient dosing and exceptionally superior anatomical visibility which can be crucial for vascular and neurovascular applications. Ziehm's sensitive imaging will bring your office in line with the Leaders in Vascular Medicine reflecting your awareness of patient comfort and safety. Expect excellent results in the case of denser anatomy, post surgical applications and other challenges. The Quantum outperforms even OEC's top contenders in image quality.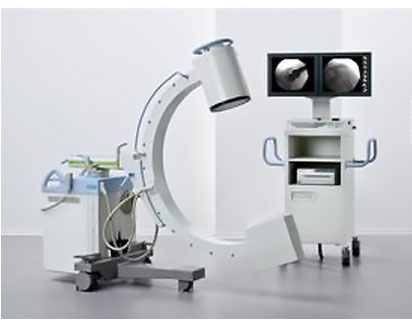 Siemens Compact L
Compare this compact C-Arm somewhat ahead of the GE OEC 7700 in production of remarkable c-arm images and fluid maneuverability. A small portable with big performance. This C-Arm is quality equipment and a solid first investment.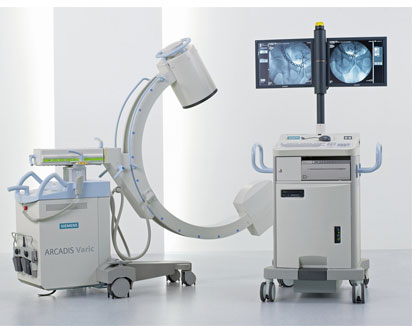 Siemens Arcadis Varic
These compacts once liberally updated compare easily with the OEC 7700 in production of remarkable images and fluid maneuverability. Small portables with big performance equals a solid first investment. The multipurpose boasts generator performance of up to 25 kW with a handy 13″ image intensifier and superior image quality and offers user friendly connectivity, interfaces and operation, making it one of the most efficient C-Arms to be found in bariatric surgical settings. This machine will give you highly accurate functionality reports offering super diagnostics and patient education data.
Bariatric Tables
Along with your refurbished C-Arm, may we suggest a new state-of-the-art bariatric tilting table to complete your C-Arm patient care room, such as the IDI Aspect High-Tilt C-Arm Table.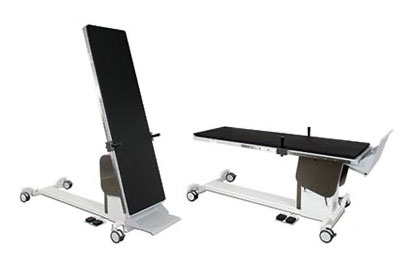 Bariatric Center Patient Care
Refurbished C-Arms for Bariatric Procedures
The focus of your bariatric post-surgical care center, ultimately, is to be responsive and responsible for your Clients' medical needs and outcomes.
Today's weight loss patient is more educated and informed on the procedures and the responsibilities of their chosen clinic and physicians. They are concerned with care and comfort and so are you. According to those watching this field, surgeries and post-surgery c-arm assisted adjustments are more expensive and time consuming for patients when performed in a hospital radiology unit or an outpatient radiology facility. In house weight loss center imaging equipment will offer both patients and doctors a more comfortable environment, saving time and money for both. This consideration is especially important in a field where patients are often bearing a great part if not all of the cost of of these surgeries and extensive follow-up.
The ability to perform post bariatric client care procedures in response to patient need is becoming the mainstay in successful bariatric surgical suites and clinics. Remember, we are prepared to assist you with training on the intricacies of procedures as well as handling those State Agency registration requirements.
A look at busy bariatric specialist practices demonstrates an office's efficiency, scheduling and client comfort all benefit from the availability of quality used, properly accessorized and updated c-arms. Sharp Medical personalized c-arm sales and service can be a defining factor in your success. Let us help you tailor your C-Arm office for the best productivity so you can focus on patient outcomes. Particularly with bariatric patients, the versatility of your C-Arm is dependent upon a dependable product with the specifications and innovative adjustment possibilities desired and sought out by today's discerning patients.
For high volume clinics or those who wish to become high volume businesses, the option is clear. In office Portable C-Arm systems are the wave of the present and the future. From planning through follow-up, your office can fully support patient care with the least number of barriers once your equipment is in place and running smoothly. For that reason you need a specialist in the field of C-Arm sales and service to watch out for your interests. Those who invested early on have found that the right c-arm for the job more than paved the way to the success of a Bariatric Practice. Let us help you find yours.
A busy bariatirc office seeks to be prepared with the right C-Arm equipment and accessories to aid and followup a number of procedures:
Bariatric surgical intervention
Bariatric swallow studies
Duodenal switch
Gastric banding surgery
Gastric bypass surgery
Gastric sleeve surgery
Gastroplasty lap-Band surgery
Swallow tests and studies
Fills under fluoroscopy
Laparoscopic gastric bypass
Obesity consultation post surgery
Weight loss advisement
Post surgical band adjustments
Patient education & compliance
Diagnostic followup
Sharp Medical can help you assess your professional clinic's needs and find you an economical c-arm unit and accessories unit to complete your patient care picture. We can assist you in mapping the growth of your business and holding down expenses. Whether you are ready for moving to a higher end unit or this is your first C-Arm purchase for your clinic, we have the answers to your questions. Expect conscientious training for your practioners and assistance with setting up your billing protocol. Your return will be easy to plan and calculate with our assistance.
You need a Refurbished C-Arm source that you can count on to bring you high performance bariatric C-Arms and Tables in a timely fashion. Additionally, in today's medical business climate, practitioners' require a partner in equipment procurement who will pay attention to particular financial objectives and goals regarding their C-Arm equipment investment.