ASPECT ISR G2 C-ARM TABLE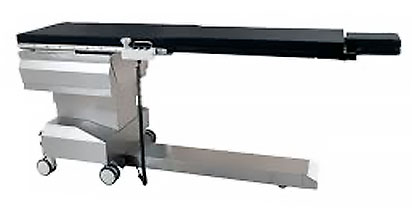 Aspect 100-4 With Motorized Elevation and 4-way Manual Float Tabletop
4-way manual Floating Tabletop with 32″ (81cm) longitudinal float and panning hand control
Isocentric Lateral Roll Patented design
Trendelenburg Tilt ( ±12°)
Motorized Elevation
Longitudinal tabletop travel: 32" (81.3 cm).
Transverse tabletop travel: 8" (20.3 cm).
Automatic locking of longitudinal float when table is not level (head up or head down).
Transverse float is available regardless of tilt or roll position.
Dual-wheel 6 caster system with 3-position locking system: total unlock, total lock, and steering lock (for easy transport).
Imaging area at full longitudinal extension = 73″ (185cm) with optional headrest attached and 61″ (155 cm) without optional headrest attached.
Standard tabletop dimensions: 19.5"/22"/24" X 84"
(49.5cm/55.8cm/60.96cm x 213.3 cm). #X100-2492
Optional tabletop dimensions: 22"/24" X 84"
(55.8cm/60.9cm x 213.3 cm). #X100-2426
Patient weight capacity: 450 lbs. (204 kg) with full table functionality at max. patient weight.
Table weight: 605 lbs. (274 kg).
Full operation on either AC or internal battery power.
115 VAC or 230 VAC operation (must specify with order).
Accessories included with the Aspect 100-4 C-Arm Table:
Clamp-on Accessory Rail
Arm Board
Multi-position Arm Support
Headrest Extension
Tabletop Catheter Tray Extension
Radiation Shield
Anesthesia Screen Holder
Peripheral Extension
ISR Table Foot Switch with Safety Hood
IDI Medical Grade Anti-Fatigue Mat
VAB Armboard
Interested in the Aspect ISR G2 C-Arm Table? Contact us today.
Additional Vascular C-Arm Tables: