ASPECT 100-4T G2 C-ARM TABLE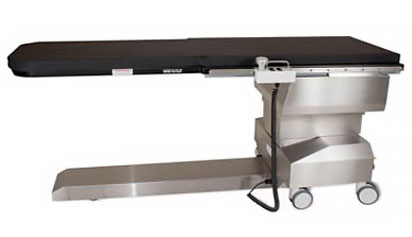 The Aspect 100-4T G2 C-Arm Table is an affordable solution for C-Arm imaging in endovascular and other interventional procedures where a 4-way floating tabletop and trendelenburg tilt is desired.
Motorized Elevation: 32 – 42" (81 – 107 cm) with 2″ tabletop pad
4-way manual floating tabletop with panning hand control
Trendelenburg Tilt ( ±12°)
Transverse Float 8″ (20.3cm)
Cantilevered, carbon fiber tabletop with low x-ray attenuation
Easy-to-clean stainless steel covers
Unobstructed imaging area: 61" (154.9 cm)
Longitudinal tabletop travel: 32" (81.3 cm
Transverse tabletop travel: 8" (20.3 cm)
Locking swivel caster
Patient weight capacity: 450 lbs. (204 kg)
Table weight: 605 lbs. (274 kg)
120 VAC or 230 VAC operation (must specify on order)
Battery back-up operation
Warranty: 3 years parts, 1 year labor
Standard tabletop dimensions: 19.5"/22"/24" X 84"
(49.5cm/55.8cm/60.96cm x 213.3 cm). #X100-2492
Optional tabletop dimensions: 22"/24" X 84"
(55.8cm/60.9cm x 213.3 cm). #X100-2426
Aspect 100-4T G2 C-Arm Table accessories included:
Tabletop Pad
Patient Restraint Straps
Interested in the Aspect 100-4T G2 C-Arm Table? Contact us today.
Additional Vascular C-Arm Tables: