HOLOGIC FLUOROSCAN PREMIER ENCORE MINI C-ARM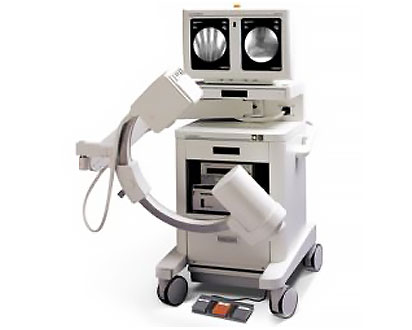 Smart engineering that translates to functionally strong, user-friendly, time-efficient features is good news for both surgeons and radiologists. And smart engineering is what you'll find in the FluoroScan Premier Encore mini C-Arm imaging system.
The fourth generation Premier Encore system raises mini C-Arm fluoroscopy to new levels of image quality, economy, ease of use, and safety while bringing expanded administrative capabilities and connectivity to the radiology department.
Hologic's FluoroScan business pioneered the mini C-Arm concept for orthopedic applications. Our products provide real-time imaging capabilities for the operating room with a minimal investment of manpower and lifecycle costs from the radiology department.
Fluoroscan Premier Encore Mini C-Arm Features:
Dual Touch Screen Monitors
Dual 6"4" Image Intensifier
LIH-Last Image Hold
Alphanumeric Patient Keyboard
Contrast Expansion
Automatic Edge Enhancement
Frame Averaging
AOI Function
Noise Suppression
Automatic Dose Rate
Auto-Calibration
Medicapture or Sony Paper Printer
Maintenance Included
Service Included
Training & Techs Available
Manufacturer's Brochure – Hologic Fluoroscan Premier Encore Mini C-Arm
Interested in the Hologic Fluoroscan Premier Encore Mini C-Arm?
Contact us today.
Additional Hologic C-Arms: